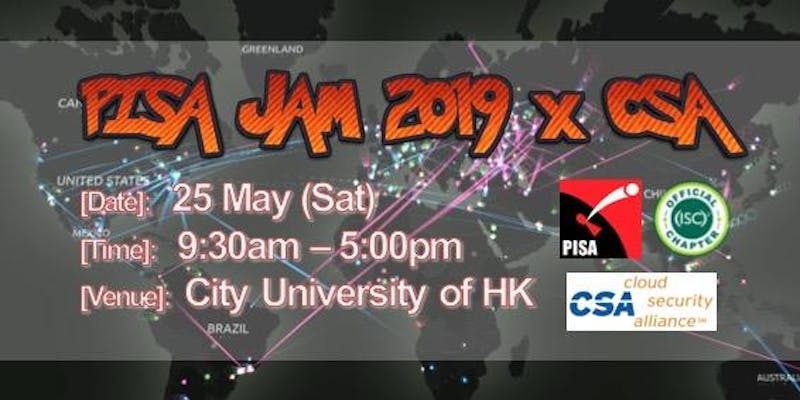 PISA Security JAM 2019 x CSA
Date: 25-May (Sat)
Time: 9:30am - 5:00pm
Venue: City University of Hong Kong
Language: Cantonese (with English terminology)
Fee: FREE

Agenda:

AM Session - Seminar



[Registration: http://bit.ly/pisajam2019am]
Venue: LT-3, 4/F, Academic Building
09.30 - 09:45 : Registration
09:45 - 10:15 : Opening
10:15 - 11:00 : Introduction to Private Intelligence Agency and its use of OSINT - by Animus Chow
11:00 - 11:45 : Cyber Insurance: Determining Security Maturity for Policy Preparation - by Dale and Antony Ma
11:45 - 12:00 : Latest update from (ISC)2 - by Clayton Jones, (ISC)2 APAC
12:00 - 12:30 : Panel Discussion - Topic: Everything-as-a-Service in Cloud - Moderator: Otto Lee
12:30 - 13:45 : #Lunch Break#

PM Session - Workshops



[Registration: http://bit.ly/pisajam2019pm]

A) Track Alice
Venue: B-5310, 5/F, Blue Zone, Academic Building
13:45 - 17:00 : Wow, you have a CSOC? - by Frankie Li, DragonThreatLabs

B) Track Bob
Venue: B-5311, 5/F, Blue Zone ,Academic Building
13:45 - 16:00 : Digital Forensics Hands-on Practices from Korean Digital Forensics Challenge - by Mr. Ricci Ieong, PISA Forensic SIG group leader
16:00 - 17:00 : Experience Sharing of Hacking Wireless HID control (keyboard & mouse) - by Daniel Yeung, AdvStar

Highlight:
Since 2016 (i.e. 15th anniversary of PISA establishment), PISA organizes a 1 day conference to gather security buddies to share their knowledge and information. This is the 4th PISA JAM.

In the morning section, experts from different areas of security will talk about the up-to-dated security trends and their research and experience. In the afternoon section, each security interested group will provide a closed sharing, discussion or even workshop to the participants. Participants can join any groups to discuss and share, based on their interests. Everyone can gain and give through the platform of PISA Security Jam.
Workshops preparation: