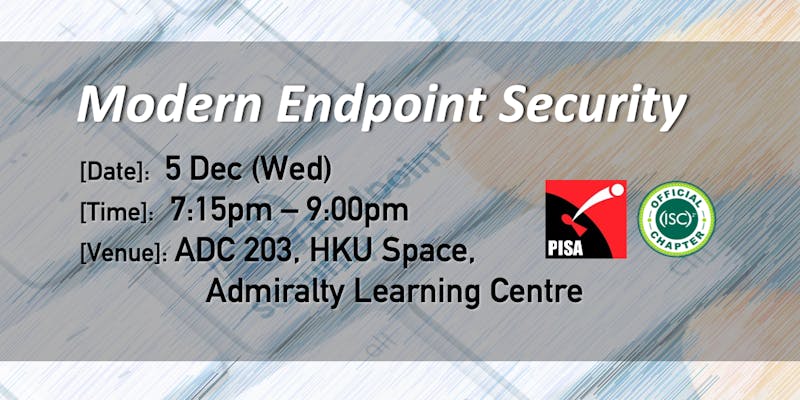 Modern Endpoint Security
Date: 5-Dec 2018 (Wed)
Time: 7:15pm - 9:00pm
Venue: ADC 203, HKU SPACE Admiralty Learning Centre
Language: English
Fee: FREE
Registration: http://bit.do/pisahk20181205
QR Code: http://bit.do/pisahk20181205

Agenda:
19:15 - 19:25 Registration and networking
19:25 - 19:35 PISA/ISC2 Announcement
19:35 - 20:35 Modern Endpoint Security by Lixin Lu
20:35 - 21:00 Q & A
Abstract:
Similar to the approaching storms that hit our shores, external forces are shaping how are approach the development and deployment of effective security solutions in our environments. These forces include the expanding attack surface, as we add billions of connected devices to the internet, our migration to cloud platforms and services, the industrialization of hacking techniques, and increase complexity in our operating environments.
This presentation focuses on how those forces have impacted our approach to endpoint security. It starts with a review of traditional endpoint security solutions that outlines their strength and weakness. It continues on to describe the key attributes of the more modern advanced endpoint security solutions, including the increased use of dynamic analysis and analytic techniques such as machine learning and artificial intelligence, for detection and protection. Finally, using real examples, it looks at the challenges these modern endpoint security solutions now face, as we defend against modern attacks such as Fileless Threats, and the race to protect and contain before these attacks can breach our environments.
Speaker's Bio:
Lixin Lu, Founder & CEO @TriagingX inc.
A veteran entrepreneur and CyberSecurity expert, Lixin Lu has over 20 years of experience in the security industry and has founded 4 security startups, from malware behavior blocking on the endpoints to malware behavior analysis in a sandbox. The most recent company he founded was ValidEDGE, acquired by Intel/McAfee in 2012, where he worked as Chief Scientist in the Network Security Business Unit, leading Advanced Threat Detection product development. He owns multiple patents in advanced malware detection and analysis. Lixin has also spoken at multiple international cyber security conferences, and published multiple research papers on cyber security magazines.
This event is dedicated for PISA's members, (ISC)2 Hong Kong Chapter Members and supporting organization, Staff and Student from HKUSpace
Professional Information Security Assoication has reserved the rights to reject anyone to register or attend this event without any notice in advance.

NOTE: Two CPE can be claimed for the (ISC)2 Credential Holder.
For any questions, please contact us at This email address is being protected from spambots. You need JavaScript enabled to view it.