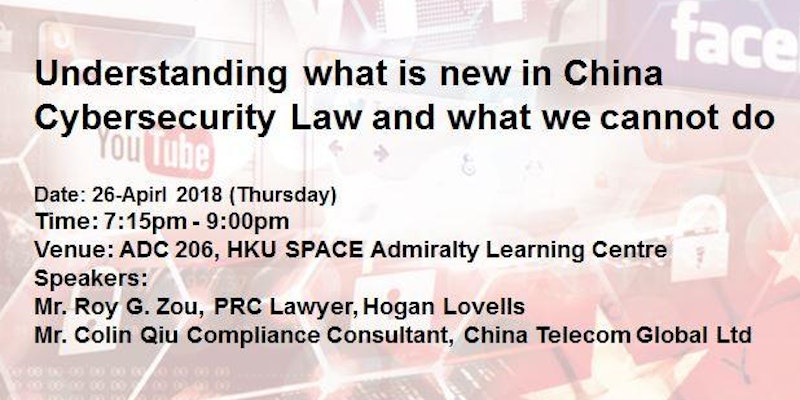 Understanding What is New in China Cybersecurity Law and What We Cannot Do
Date: 26-April 2018 (Thur)
Time: 7:15pm - 9:00pm
Venue: ADC 206, HKU SPACE Admiralty Learning Centre
Language: Mandarin/English
Fee: FREE
Register: https://goo.gl/UYpoqA
Agenda:
19:15 - 19:30 Registration and networking
19:30 - 19:35 PISA Announcement
19:35 - 20:35 Understanding what is new in China Cybersecurity Law and what we cannot do
by Mr. Roy G. Zou, PRC Lawyer, Hogan Lovells
20:35 - 21:00 Panel Discussion and Q & A
Highlight:
The Cybersecurity Law, which indicates that China is increasingly focusing on cybersecurity, was adopted by the National People's Congress (NPC) in November 2016 after a year of legislative proceedings, and comes into effect on 1 June 2017. The Cybersecurity Law contains a number of cybersecurity requirements,
including safeguards for national cyberspace sovereignty, protection of critical information infrastructure and data
and protection of individual privacy. The Law also specifies the cybersecurity obligations for all parties.

Speaker's Bio:

Mr. Roy G. Zou, Partner, Hogan Lovells
Roy Zou works with companies on merger and acquisition transactions, the creation of join ventures, market entry, and international trade. He has extensive experience in directing legal and financial due diligence reviews of Chinese companies for multinational corporations and investors. Over the decades, Roy regularly dealt with approval authorities and other government regulators and agencies in connection with commercial transactions. Roy also worked on a number of U.S. litigation involving Chinese companies or government agencies as respondents or defendants. His career has spanned corporate, government and regulatory.

Mr. Colin Qiu Compliance Consultant, China Telecom Global Limited
Mr. Colin Qiu joined China Telecom Global Limited in 2015 and serves as its compliance consultant. He focuses on TMT regulatory compliance and outbound equity investment in telecom industry. Colin has led compliance policy and risk-control system development of the Company and its global subsidiaries (including US sanctions and export control, compliance screening, China and global cybersecurity cybersecurity and data protection, etc.). Colin is also responsible for the company's APAC telecom licensing and regulatory compliance. To assist the company on the Belt-and- Road strategic investments, Colin has led a series of the company's overseas subsidiaries set-up and regional business development. Colin is also extensively involved in the company'multiple telecom investment projects in APAC and EMEA. Before moving in-house, Colin worked at a magic circle law firm, focusing on Hong Kong capital market and cross-border public and private M&A. He obtained his JD, PCLL from City University of Hong Kong and LLM from UC Berkeley.

This event is dedicated for PISA's members, (ISC)2 Hong Kong Chapter Members and supporting organization, Staff and Student from HKUSpace, invited guests by China Telecom Global Ltd.

Professional Information Security Association has reserved the rights to reject anyone to register or attend this event without any notice in advance.

NOTE: Three CPE can be claimed for the (ISC2) Credential Holder.