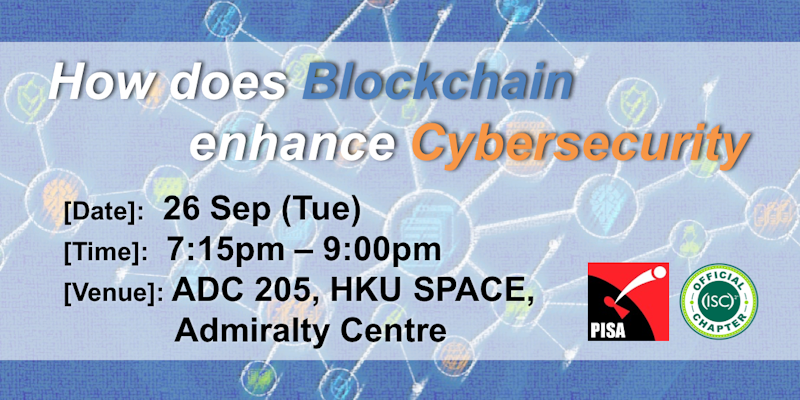 How does Blockchain enhance Cybersecurity
Date: 26-Sep-2017 (Tue)
Time: 7:15pm - 9:00pm
Venue: ADC 205, HKU SPACE Admiralty Learning Centre
Language: Cantonese with English Presentation material and terms
Fee: FREE
Registration: https://goo.gl/AYuRz1
Agenda:
19:15 - 19:30 Registration and networking
19:30 - 19:35 PISA Announcement
19:35 - 20:35 How does Blockchain enhance Cybersecurity
20:35 - 21:00 Q & A
Abstract:
What is Blockchain? Why is it groundbreaking? Despite all the news on the importance of blockchain and how it could change our digital life, not many people can explain in layman's terms how the technology is so different from other internet tech and its role in our lives. This event will go in depth to address the topic.

This talk is a continuation of TechInAsia article (http://techinasia.com/talk/explain-blockchain-wife). The author, Antony, will cover on what Blockchain is and how the physical properties will be brought into a virtual world. Please have a look at the article before coming for the event.
Speaker's Bio:
Mr. Antony Ma is a software developer, turned IT Auditor, turned Security Architect, turned Entrepreneur. He is now founder and CTO at a travel tech PowerData2Go, where he is solving connectivity issues when traveling. Antony chaired PISA in 2009 and also appointed in cloud security advisory committees. He has degree in Engineering and Law.
NOTE: Two CPE can be claimed for the (ISC2) Credential Holder.
For any questions, please contact us at This email address is being protected from spambots. You need JavaScript enabled to view it.